What's on in Paris July 2016
4 July 2016
---
Outdoor Cinema Events, France's National Day and Beach Fun
If you're planning a trip to Paris in July, you've picked a wonderful month to see the City of Light. Not only is the weather pleasant and warm, the parks sunny and full of beautiful colours and the menus bursting with delicious seasonal dishes, but there are a wealth of leisure activities going on, exclusive to this month. An outdoor cinema experience in one of the city's stunning green spaces might be right up your street or if it's something more 'beachy' you fancy, head to the Paris Plages along the River Seine for sand and sun. The pièce de résistance of a July visit though, is celebrating France's national fête with them – Bastille Day.

Cinéma en Plein Air: Open Air Film Nights
13th July – 21st August 2016
One of the most delightful ways to spend a few hours in Paris this July is at an outdoor cinema event in Parc de la Villette. This 19th arrondissement park is perfect for a day out on the fringes of Paris for plenty of other reasons besides the plein air cinema: it houses the largest science museum in Europe, the Cité des Sciences et de l'Industrie, the College of Music & Dance and multiple theatre venues. The grounds are perfect for a summertime stroll but in July and August the grassy areas are transformed into free outdoor cinemas. Films start at dusk and deckchairs are available for hire from 7:30pm, alternatively lay down a picnic rug snuggle up under blankets.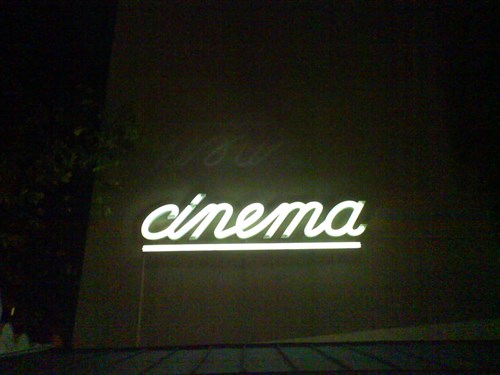 Each year a different creative theme is announced ahead of this event and the films shown will be linked to this – in 2016, the organisers have chosen "Dress Code." The selection of films that have been chosen this year celebrate characters in costumes: cross-dressing, military heroes, astronauts, aliens, doctors and lawyers will all feature and audiences are encouraged to dress up as their favourite screen idols from these movies.
Incredibly popular since its beginning, the event has been running in this hip district of Paris for 26 years. The schedule is always an eclectic mix of old and new, French and English-speaking films, so no matter when you visit Paris this summer, there's bound to be something on that you'll love. Some of the films lined up this year are: Rushmore, Gravity, Miami Vice, The Seven Year Itch, Casino Royale, Corpse Bride, Interstellar, Drive and Fargo. A full list of films can be found here.
Put together a picnic with favourites from the charcuterie and boulangerie, buy a fabulous bottle of wine and head down with a blanket to watch a classic film under the stars with delicious food and great company. Is there a more romantic – or affordable – way to spend an evening in Paris?

Bastille Day: A National Celebration
14th July 2016
Named for the date in 1789 when Parisians stormed the Bastille prison, this national day marked a significant event in the French Revolution. Nearly 230 years later, the French still passionately commemorate this day each 14th July. More than any other event, Bastille Day has become a symbol of France's liberty and independence.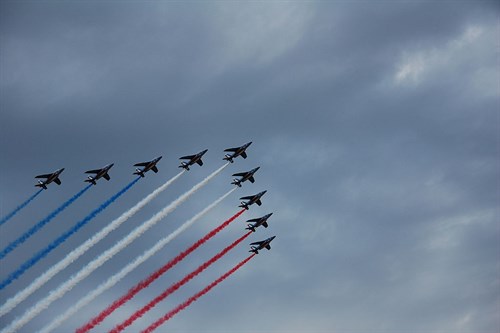 The day starts with a military parade along the Champs-Elysees, marching past the president and other official guests, as well as hordes of onlookers. Enjoy a fly-by performed by la Patrouille de France (France's answer to the Red Arrows) trailing red, white and blue – the colours of the tricolour – across the sky. During the evening, Paris lights up – both literally and metaphorically: there's an Eiffel Tower light show and a firework display over the River Seine accompanied by live classical music.
Traditionally, after the show, the fire stations around the city launch their annual Fireman's Ball. These are events where hundreds of Parisians come together to drink and dance the night away with their fellow countrymen, as well as tourists looking for a proper slice of French hospitality. Each arrondissement hosts its own take on the bal des pompiers, and allows people to join in for free – though a voluntary donation towards the station's facilities is encouraged. For more information on 2016 balls to take part in, here's the list.

Paris Plages: Sun, Sand and… Sprinklers
20th July until 21st August 2016
In July and August, Paris gains the only thing it's missing the rest of the year: a beach. Plenty of tourists come to France each year for its wonderful coastlines, from Cannes and Saint-Maxime in the South along the Côte d'Azur, to the sprawling D-Day landing beaches of Normandy in the North, the country has some stunning shores. Usually when a Paris trip is decided upon, the beach dreams are quietly put to one side in favour of culture and sightseeing opportunities – but not in July and August…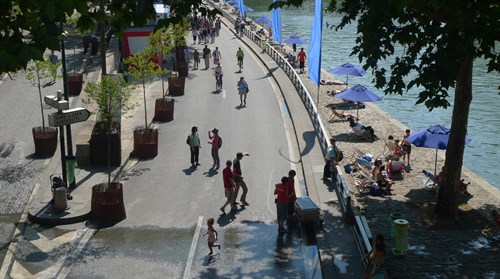 Each year at this time, 5000 tons of sand and over 100 palm trees are transported to a picturesque spot along the Seine River, not far from Notre Dame Cathedral. In the Paris heat, this half-mile stretch of "coast" is a welcoming, cooling break. Visitors can pick a spot to lounge on a towel or hire a sunbed – relax in the sunshine, read a book or simply watch the boats pass by. Unfortunately, the river isn't safe to enter so instead of taking a dip in the surf, beach-goers can cool off in the sprinklers that are set up between the palm trees. Expect much excitement from squealing children…
Just like at any other seaside resort, there are plenty of opportunities for ice-creams, refreshing drinks, games for kids and a volleyball net for adults. There are boardwalks between these attractions so that for a while, you can truly forget you're in the middle of a bustling European city. The best part of the plages is that entry is free – as so many of the best things in life often are…
All of these July venues are just a short ride by Metro or bus from the Hotel Median Paris Congrès – you're in the perfect location to catch all of the action on your summer stay in the City of Light…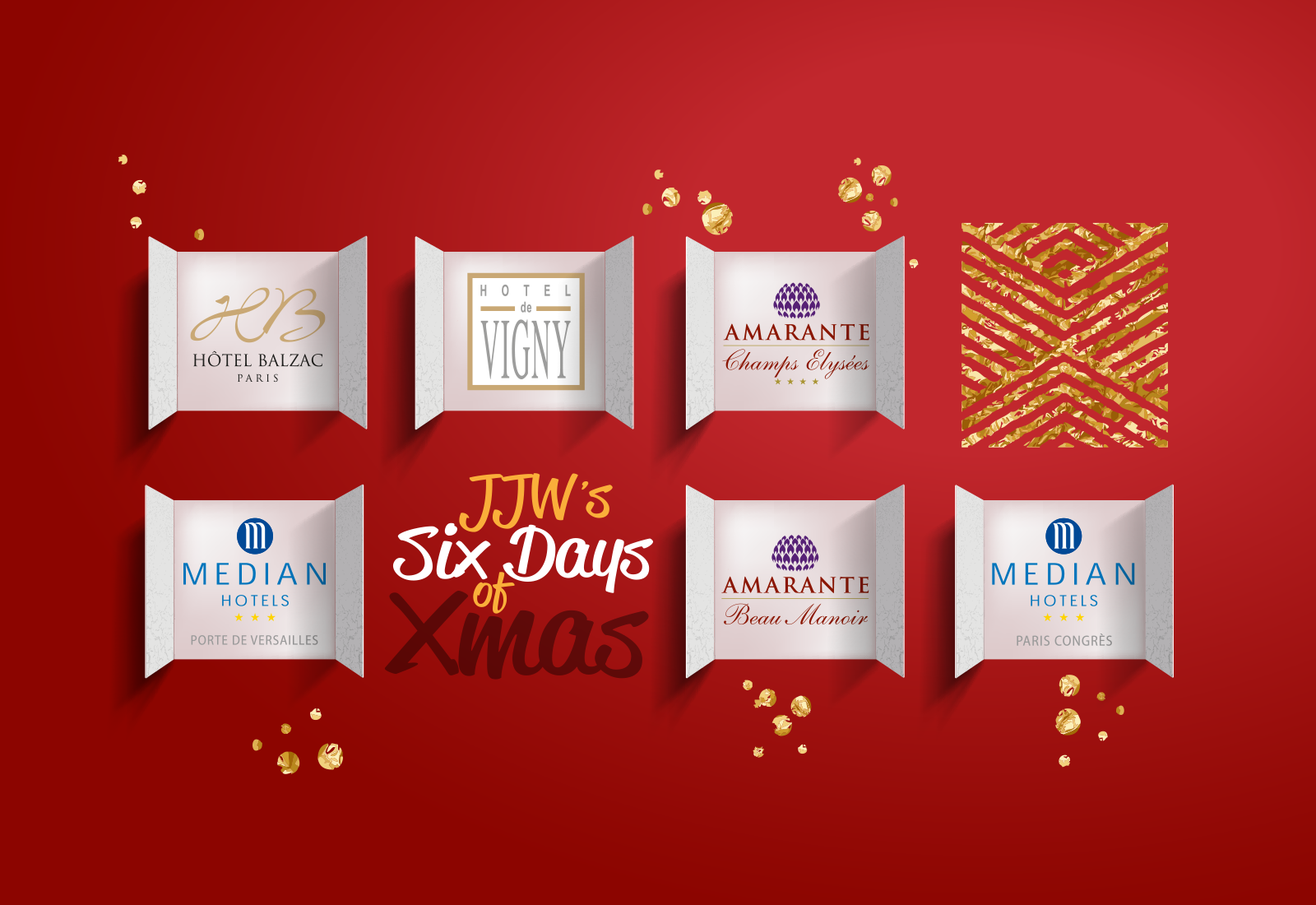 Six Days of Christmas Sale
This December, JJW Hotels & Resorts is unveiling a special run of One-Day-Only Secret Sales for each of our Parisian Hotels.
Click here for more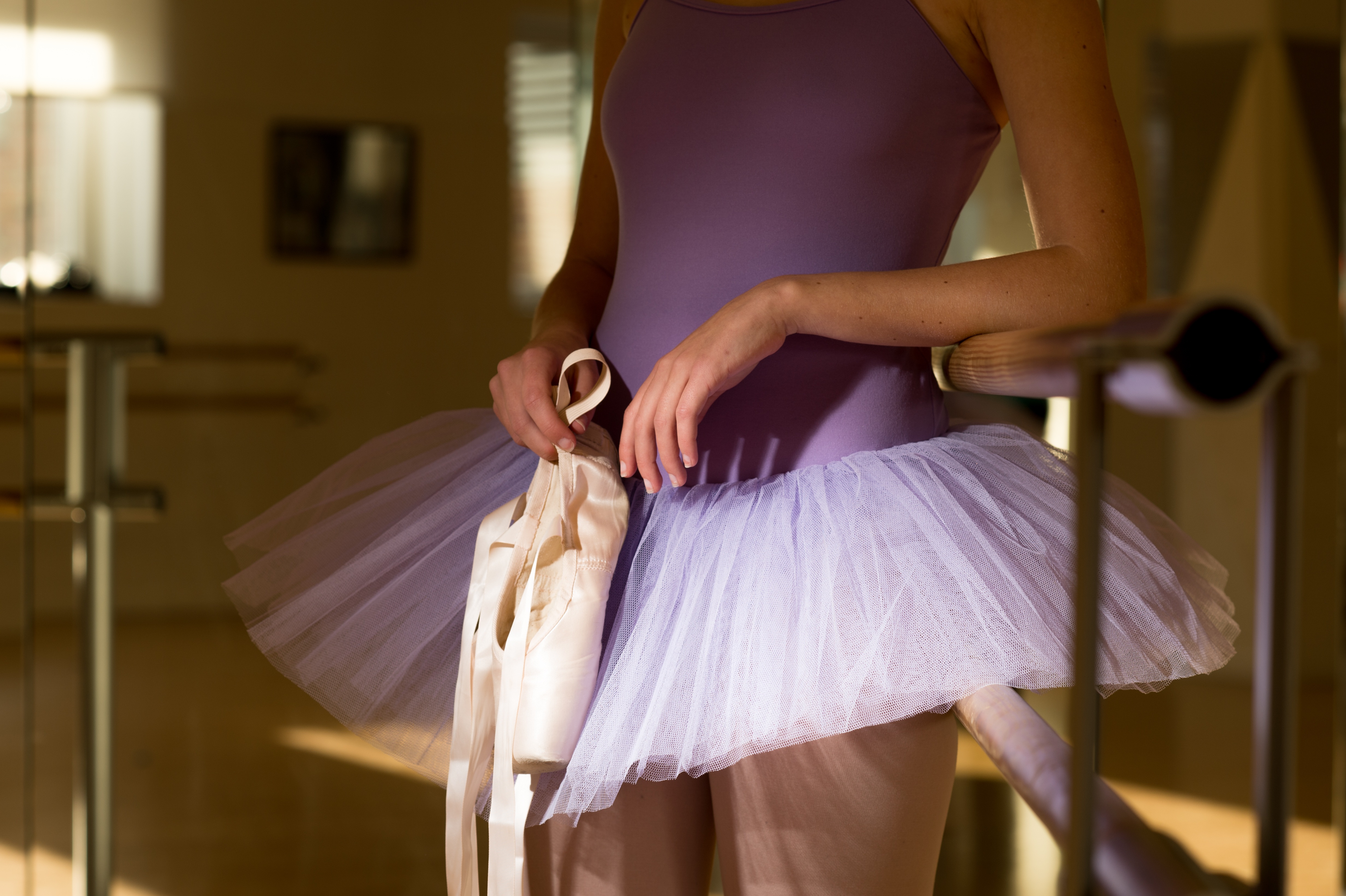 Musical Theatre at Palais des Congrès
This autumn, Palais des Congrès will host the smash-hits: Once Upon a Time Broadway, One Thousand and One Nights, Metal Gear Live, Clemenceau and the Trench Bayonets and The Tales of Hoffman! All of which can be enjoyed with a stay at Median Paris Congrès, situated just minutes from the ic...
Click here for more