What's on in February 2016
27 January 2016
---
There are finally subtle signs that spring is on the way in Paris. There might still be a brisk nip in the air and Parisians remain buttoned and booted in their chic winter attire, but there's definitely something a bit brighter about the French capital in February. Not only might you need to bring your Ray Bans along for sunny intervals while you're sightseeing this month, but you're in for sparkling treats in the entertainment calendar too. Classical ballet, vintage film and live rock music are all on the agenda – as well as a unique opportunity to see French history brought to life – there's something for everyone seeking fresh starts and new ideas in the City of Lights this spring.
Rocking Out: From Wilson to Webber
If it's something high-voltage with limitless decibels you're after this February, then Paris has plenty to offer. British guitar extraordinaire Steven Wilson hits the Parisian music scene at the stunning, futuristic Palais des Congrès concert hall, just a short Metro ride from the Median Paris Congres Hotel, for one night only on February 1st. This talented prog-rock artist has worked with some of the world's greats such as Jethro Tull, Pendulum and Yes – originally from the band Porcupine Tree, Wilson has now forged a successful solo career. Currently on a worldwide tour with his band, Wilson's fans have lauded his experimental approach to rock and progressive sound. There's something for die-hard aficionados and newcomers alike in this dramatic masterpiece – as one spectator put it, this is 'as close as it gets to a perfect concert.' Tickets are available online and are priced between 40-67.50 euros.
Meanwhile, at the historic Théâtre Mogador, another wild musical display is thriving… but this one has more of a lycra-clad, feline touch. The beautiful art deco venue hosts 'Cats' – the world-famous, multi award-winning musical by Andrew Lloyd Webber. The musical has enjoyed residence in Paris since October – but due to popular demand and rave reviews, the run has been extended until July 2016. If you're in the city this February, don't miss your chance to see this beautifully-choreographed work of art and hear classical hits like 'Mr Mistoffelees', 'Macavity: The Mystery Cat' and 'Memory' sung live. For musical theatre enthusiasts and cat-lovers alike – now is your chance to catch this completely original classic for an unforgettable night in the French capital.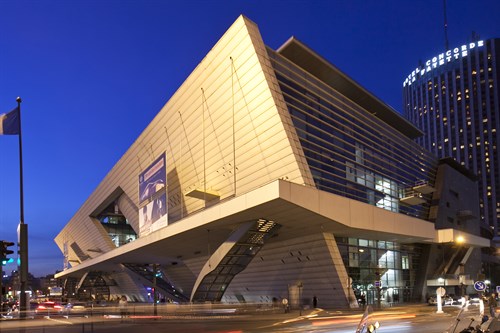 A Guide to a Charming and Unconventional Valentine's Day
If candlelit meals, dreamy strolls along the Seine and red rose bouquets are your idea of the perfect Valentine's Day then you're in the right place – the City of Love lives up to all its romantic hype and will never disappoint those in search of a classic 14th February. If, however, you're up for something a little unconventional this month, then Paris also has plenty to offer its adventurous visitors. Running from 12th – 14th February, The Vivre l'Histoire is an exhibition of over 100 stalls celebrating past days of glory in a sensory feast of drama and creativity. At the Espace Champerret, just a 20 minute stroll from Median Paris Congrès Hotel, you'll meet artisans and craftspeople displaying their hand-made goods, Romans in re-enactments from antiquity, duelling knights, medieval martial arts, World War Two paratroopers and you can even join in model and figurine workshops. With over 10,000 guests expected over the weekend, there's no doubt of the exhibition's popularity. So whether you've got kids with you – or you're just a child at heart – come along to this exciting, interactive walk through history and pick up a Parisian memento you won't find anywhere else.
For those who'd rather enjoy adventure and exploration from a comfortable seat, perhaps the Valentine's weekend showings of 'Indiana Jones – Raiders of the Lost Ark' might be more to your suiting. The spectacular concert venue – Palais des Congrès – is showing the classic Harrison Ford film on 13th – 14th February with subtitled dialogue and the famous John Williams soundtrack performed live by the celebrated Star Pop Orchestra. Watch "Indie's" adventures come to life like you've never seen them before in a colourful, energetic presentation of the 1982 original – tickets are priced between 49.90 and 89.50 euros and available at fnacspectacles.com.
Get Lost in the Mystical World of Ballet
Anyone craving some grace and beauty this spring will find just what they're after at the Palais des Congrès between 20th – 28th February. Not only will Paris host the world-renowned Lviv National Opera Ballet for 8 days, but the national Ukrainian company is ambitiously presenting three classic ballets during their stay: Don Quixote, The Nutcracker and Swan Lake. Don Quixote is the Spanish tale of a chivalrous old knight who, against all odds, manages to bring together forbidden lovers Kitri and Basilio. Danced to the original score by Ludwig Minkus, this vibrant, colourful spectacle is not to be missed if you're after one of the lesser-known ballets.
If it's something classic and wintry you want, The Nutcracker will lure you on a magical adventure. On Christmas Eve, everything is not as it seems in Clara's house as she is whisked into a world where toys walk and almost anything can happen. She encounters the Mouse King, dances with confectionary and, of course, meets the famed Sugarplum Fairy. One of Tchaikovsky's other entrancing scores is Swan Lake – the ballet that will transport you to the Russian wilderness in a tale of enchanted spells, deception, true love and tragedy. The beauty of these works, beside the astonishing choreography and timeless music, is that they transcend language so all audiences can understand the stories and what better venue to enjoy these performances. After a busy day in the city, pirouette your way to the Metro for a short journey home to the Median Paris Congrès Hotel.